TEC8112 Series architectural dimmers


"The best flattery is when the competition starts to copy your product and this tells you that it must be good". But there's nothing like the real thing.
We are always looking for distributors in Europe, Far East, Australia, Japan. Contact us for information.
---
---
Product - Who can use our dimmers
Available in sizes from 1800 to 4800 watts.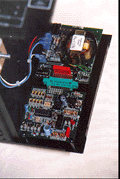 ---
| | | | | |
| --- | --- | --- | --- | --- |
| Solid state design | Built-in adjustable presets | Slow fade rate adjustments | Separate Up/Down adjustments | Analog or push button controls |
| Automation interface | Minimum voltage adjustment | Maximum voltage adjustment | Fire alarm interface | Master-Slave combinations |
| Fully magnetic breakers | Primary & secondary breakers | Toroidal filter chokes | Modular plug-in card | Static voltage protection |
---
Interface wiring diagrams , fire alarm, input/output,
---
| | | | | |
| --- | --- | --- | --- | --- |
| Longer bulb life | Reduced energy consumption | Uniform control of areas | Over 20 Year life expectancy | * 5 Year product warranty |
---
Dimmers shall be as manufactured by Ash-Stevenson Inc., 21 Progress ave., Scarborough, Ontario, Canada M1P 4S8. These units shall be warranted for a period of Five years from date of manufacture. Dimmers shall be wall mounted, maintaining a minimum of six inch ventilation clearance on all sides. Supply voltage - 120v 60Hz, single phase. (240v 50Hz European version) Suitably sized primary breakers shall be provided in each local power distribution panel. Low voltage control shall be 12 Vdc. for all dimmers and remote control stations. Maximum RF filtering and lamp filament hum reduction shall be achieved using toroidal filter chokes. Minimum rise time with specific reference to full load shall exceed 425 microseconds. Waveform current rise time shall not be greater than 250 milliamps per microsecond.
* Warranty includes all components with the exception of the power handling device (triac or SSR block) Since these devices can be damaged via an external short circuit which is beyond our control, they cannot be warrantied.
---
Best experienced with



Click here to start. Page last revised - 03/23/02
Copyrights © 1995 Ash-Stevenson Inc. All rights reserved.

All documents and images published at this site are the property of Ash-Stevenson Inc.and/or Automatic Devices Company or any company that Ash-Stevenson Inc. represents. No part of these documents may be reproduced or transmitted in any form (other than from this original World Wide Web server for the sole purpose of inclusion in specifications), specifying Ash-Stevenson Inc. as the distributor and installer for the companies represented. For no other reason shall any of this information disseminated without the express written permission of Ash-Stevenson Inc.